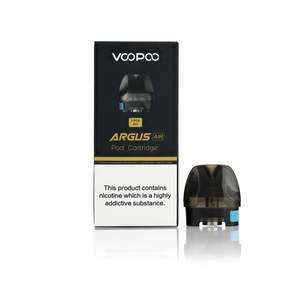 The VOOPOO Argus Vape Replacement Pod is a specific pod designed for use with the VOOPOO Argus series of devices, such as the VOOPOO Argus X, Argus Pro, or Argus GT. The pod serves as a reservoir for e-liquid and houses the coil, allowing you to enjoy your vaping experience.
When it comes to replacing the pod for your VOOPOO Argus device, you can typically find compatible replacement pods through various vaping retailers, both online and offline. These replacement pods are specifically designed to fit the Argus series devices and ensure proper functionality.
To replace the pod, follow these general steps:
Remove the existing pod from your VOOPOO Argus device.
Discard the old pod if it is worn out or no longer functioning properly.
Take a new VOOPOO Argus Replacement Pod.
Insert the new pod into the device, ensuring it fits securely.
Fill the pod with your preferred e-liquid, following the manufacturer's instructions.
Allow the e-liquid to saturate the coil by letting it sit for a few minutes.
Once the pod is properly filled and primed, you can proceed to vape as usual.
Remember to always refer to the specific instructions provided by VOOPOO or the manufacturer of the replacement pod for any additional guidance or device-specific details.