VAPY Premix Cactus Vape Liquid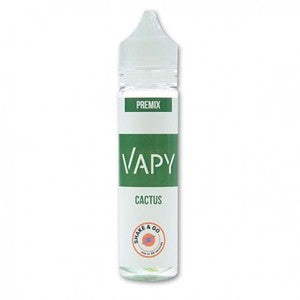 Another piece of great job from VAPY. This time you can try extraordinary cactus fruit flavour - something like a mix of kiwi and watermelon.
Vapy E-Liquids
Capacity 40ml
Bottle size 60ml
Strength 0mg
Add 10ml of 18mg nicotine shot for 3mg
Add 20ml of 18mg nicotine shot for 6mg 
VG/PG 70/30
Cactus Fruit E-Liquid
A bit mild, sweet and sour. Combined taste of watermelon with a hint of kiwi fruit added. Definitely not overwhelming. Perfect for whole day vape.