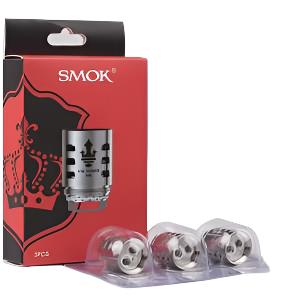 PACK OF 3 coils
The SMOK V12 Prince X6 Coils are high-performance replacement coils designed for use with the SMOK TFV12 Prince Sub-Ohm Tank. These coils utilize a sextuple coil configuration, featuring six individual coils wrapped in a vertically oriented design.
The V12 Prince X6 Coils are engineered to provide a balance between flavor production and vapor production. They have a recommended wattage range of 50 to 120 watts, making them suitable for a wide range of vaping preferences.
These coils incorporate organic cotton wicking material, which efficiently absorbs e-liquid and promotes consistent flavour delivery. The sextuple coil configuration ensures rapid and even heating, resulting in dense vapor production and rich flavour.