SERIOUSLY NICE Vape Liquid 100ml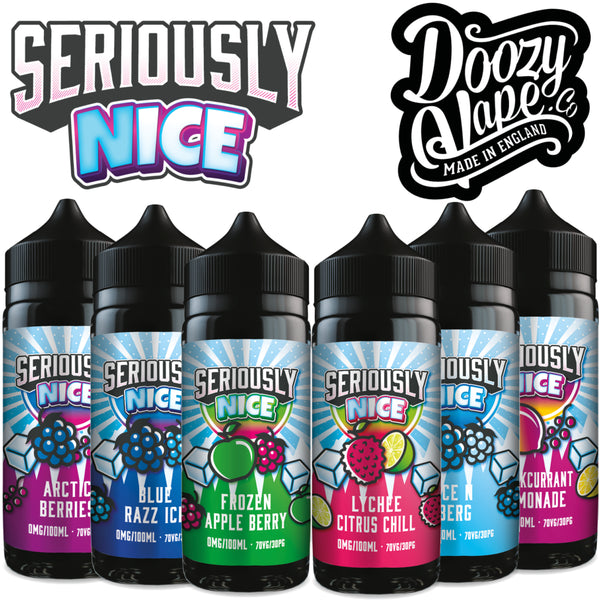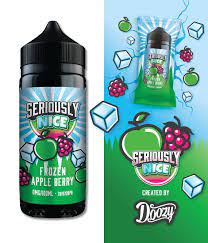 Doozy Vape Co are back with the newest addition to their range of Seriously e-liquids. The new Doozy Vape Co Seriously Nice 100ml range of short fills are a delicious blend of fruity flavours with the classic menthol chill. These e-liquids have a 70% VG ratio, making them a great choice for sub-ohm vapers. As you vape this e-juice, you'll first experience a burst of fruity flavour as you inhale. Then, as you exhale the impressive vapour you'll feel the cool, icy hit of menthol as it glides over your tastebuds.
Lychee Citrus Chill
Enjoy the sweet, tropical flavour of lychee with a tangy citrus tingle and an icy menthol chill. These wonderful flavours work harmoniously together to create an exotic flavour that'll leave you wanting more every time.
Ice N Berg
Doozy Vape Co's Ice N Berg packs an icy punch in this delicious e-liquid. This juice combines the sweet flavours of wild berries with an aromatic hint of aniseed. As you exhale, you'll experience an ice cold menthol blast.
Frozen Apple Berry
This e-liquid combines frozen red raspberries and crispy green apples to create a deliciously sweet, fruity shortfill with a cool menthol breeze for an every-day vape.
Blue Razz Ice
Doozy Vape Co's Blue Razz Ice features a classic flavour of blue raspberries, coated in sweet candy. Enjoy sweetness as you inhale with a cool, icy chill exhale.
Blackcurrant Lemonade
This e-liquid will have you believing that you're biting down real blackcurrants that are bursting with juice. This is combined with the taste of tart lemonade, topped off with a menthol hit on the exhale for an icy chill vape.
Arctic Berries
For a cool, refreshing taste of red and blue berries, try the Arctic Berries shortfill. This shortfill e-liquid provides a sweet and juicy flavour on the inhale with an ice cold exhale.