PACHA MAMA Vape Liquids 50ml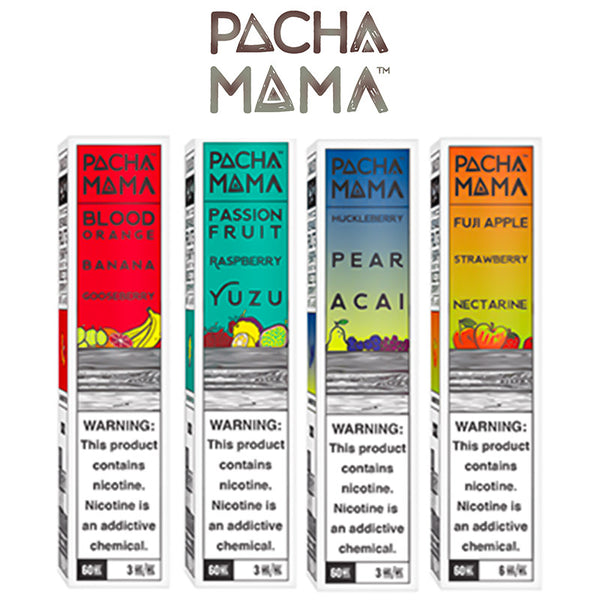 Pacha Mama eliquid is another line from Charlie's ChalkDust featuring mouth-watering flavours. If you like the taste of freshly cut fruit, you will love what Charlie ChalkDust has created. All of Pacha Mama eliquids have at least three types of fruit flavours combined for a stimulating and refreshing vape.
Fuji Apple

Fuji Apple, Strawberry and Nectarine shortfill eliquid by Pacha Mama is a garden fruit medley containing a zesty undertone. A crisp and fresh-tasting Fuji apple and sweet strawberry combine, before being topped off by a juicy, zesty nectarine.

Huckelberry Pear
Huckleberry, Pear and Acai shortfill eliquid by Pacha Mama is a fruit medley with a generally tart taste, perfect for vapers who like bittersweet flavours. Tangy huckleberry and rich acai berry is countered by crisp pear notes, creating a layered vape.

Mango Pitaya
Mango, Pitaya & Pineapple shortfill eliquid by Pacha Mama is a tropical fruit fusion, playing between sweet and sharp notes. A tangy mango is complemented by a subtle pitaya flavour and finished off with a tart pineapple aftertaste, producing a distinct flavour.

Strawberry Guava
Strawberry, Guava and Jackfruit shortfill eliquid is a tropical fruit blend containing a sweet aftertaste. A sweet strawberry and juicy guava combine with subtle jackfruit notes, making an ideal alternative to heavy dessert flavours.

Blood Orange
Blood Orange, Banana and Gooseberry shortfill eliquid by Pacha Mama is a mixture of contrasting fruit flavours, ideal for those who like smooth yet sharp tastes. A zesty blood orange and tart gooseberry combine for a bold inhale, complemented on exhale by a light banana for a complex vape.
Strawberry Watermelon
Strawberry Watermelon shortfill eliquid by Pacha Mama is a fruit blend with an overall sweet taste. A ripe-tasting watermelon and juicy strawberry collide for a well-balanced flavour

Passion Fruit Raspberry Yuzu
Pachamama Passion Fruit Raspberry Yuzu Vape Juice the tangy flavour sensation you don't want to miss. Sharp yet sweet raspberries, citric yuzu fruit and passion fruit make for the ultimate vaping experience.

Mint Leaf Honeydew
The Mint Leaf, Honeydew and Berry Kiwi shortfill eliquid by Pacha Mama is a combination of cool and sweet notes. A juicy honeydew melon, sharp kiwi and tangy berry fusion are complemented by crisp mint, ideal for vapers who like complex fruit profiles.

Starfruit Grape
Starfruit Grape shortfill eliquid by Pacha Mama is a fruit blend with rich flavours. On inhale, the tangy notes of starfruit are apparent straight away before being complemented by a bittersweet grape for a distinct e-liquid.

A Killer Guava Pear Cobbler
Guava Pear Cobbler shortfill eliquid is a sweet and buttery pastry blend with hints of tropical fruit. On the inhale you'll get a rush of sweet, ripe guava and American pear as a juicy aftertaste.