INNOKIN Endura T22E Starter Kit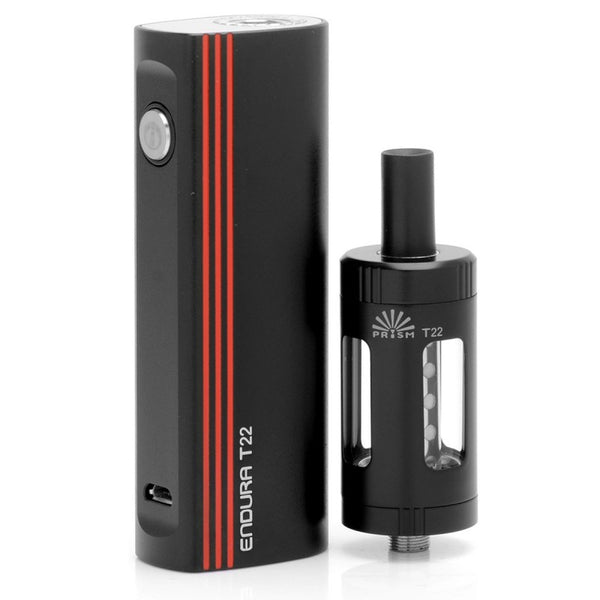 INNOKIN Endura T22E Starter Kit
Endura T22E made by Innokin is a perfect starter kit for beginners who want to have a reliable e cigarette. High quality mouth to lung starter kit.
Innokin Endura starter kit made with top quality materials is a 1 button, easy to fill & easy to use compact personal e cig that is efficient and long lasting.
Right out of the box, the Endura T22E mod is intuitive to use and it packs a bunch of flavours that deliver a great mouth to lung vape experience.
T18E Coils
The replaceable Innokin T18E coils have been designed to deliver deep and amazing flavour. The Japanese Organic cotton draws the e liquid up to the dual top coil which creates delicious flavour. The T18E tank is made of Stainless Steel and Pyrex glass which is quick & easy to refill and clean. 
T22E Tank
The Endura T22E tank has a 2ml capacity which will last a day of vaping and it's easy to refill. Just turn the top and add your best e liquid. Optimized at 14 Watts with specially designed 1.5 Ohm coils, the ENDURA T22E tank brings everything good that we've learned about vaping. 
The Endura MOD with 2000mAh of real battery capacity can be conveniently charged with a standard Micro USB cable included in the starter pack. 
Advanced integrated safety protections guard against overheating and over discharge and greatly improve charging safety and overall reliability.
The Innokin ENDURA T22E is a magnificent smoking alternative that delivers a great experience in a durable, compact and long lasting starter kit. 
Starter kit contents: 
1 x Innokin Endura T22 battery 2000mAh
1 x Prism T18E 2ml Tank (1.5 ohm coil pre installed)
1 x Spare T18E Prism 1.5 ohm Coil 
1 x Micro USB cable
1 x Bag of spare O-ring seals
1 x User Manual