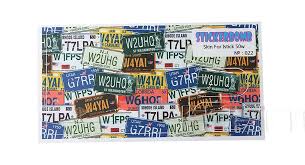 Fits Istick 50W e-cigarette MOD. Perfect to protect your vaporiser from any scratches and damages.
Eleaf Istick 50W sticker features:

Now you can upgrage your favorite Eleaf Istick with fancy sticker from Stickerbomb. The look of your e-cigarette MOD will be totally changed. It will also be protected from scratches and other damages.
The image contains many car plates with different colors creating a nice mosaic.

The sticker fits to Eleaf Istick 50W e-cig MOD.