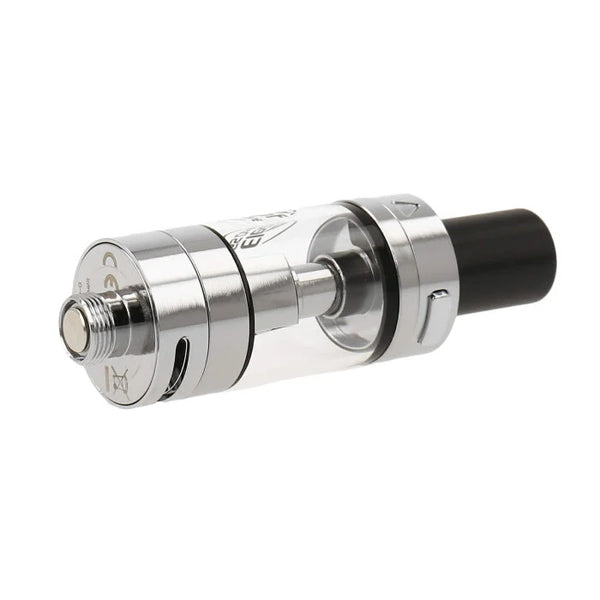 One of the best mouth to lung top filler tanks in the vape market. GS Drive tank from Eleaf with its slide top is super easy to refill. no more spilled eliquid. Compatible with all range of gs coils.
GS Drive Tank 
GS Drive is the first atomizer from Eleaf to have a top sliding fill. The GS Drive tank is an ideal match for a wide range of e cigarette batteries (which support sub ohm coils if you want to use sub ohm gs coils 0.35, 0.75, 0.6 mesh), with adjustable bottom airflow and thick glass and high quality metal construction. 
Eleaf Top Fill Tank
The Eleaf GS Drive Top Fill Tank is a slim, compact and portable atomizer with 2ml Eliquid capacity. The GS Air 0.75ohm head and GS Air M 0.35ohm coil, installed in the GS Drive Tank can provide good flavour and big cloud production. 
GS Drive Atomizer
Moreover, the GS Drive Atomizer features very precise adjustable bottom airflow system and super easy slide top filling system. The GS Drive tank is definitely the best atomizer for MTL (mouth to lung) vapers. Perfectly compatible with the Eleaf iStick 30W MOD Battery. Just get it if you are looking for a tank which will give you a vaping sensation similar to smoking a real cigarette. 
Features of the tank:
Size: 16.5mm x 56mm
Capacity: 2ml

Coil: GS Air M 0.35ohm Coil
Compatible with full range of GS Coils (0.35, 0.6, 0.75, 1.2, 1.5, 1.6)
Easy Top Slide Filling Design

Adjustable Bottom Airflow
Slim and simple tank for efficient vaping
Contents in the box:
1 x GS Drive Atomizer
1 x GS Air M 0.35ohm Coil (Pre-installed)
1 x User Manual