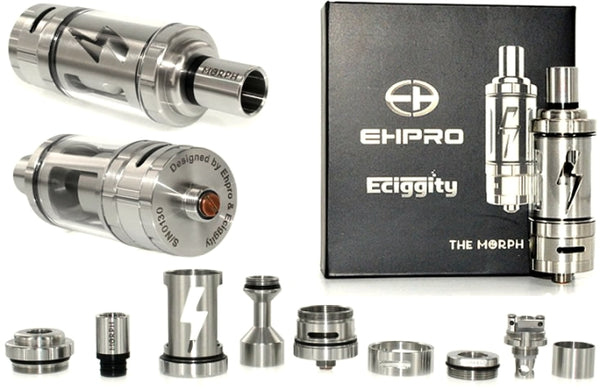 This Morph tank was designed by EHPRO with Eciggity's cooperation. The most attractive point in this unique crafted tank is that it is suitable for Aspire Atlantis sub ohm coils with adaptor. You will get the combining compatibility, convenience and savings in the great tank. 
Ehpro Morph Tank specifications:
Stainless steel construction.
Quartz glass tube.
Huge adjustable cyclops airflow.
Wide bore stainless steel and drip tip.
Future adaptor for Aspire Atlantis Sub Ohm coils.
Adjustable copper 510 pin.
Liquid Capacity varies depending on which adapter you have fitted.
Ehpro Morph Tank box contents:
Morph Tank
Wide bore stainless steel and drip tip.
Spare O-Rings.
Different grub screws for 510 pin adjustment.
Spare screws
Screwdriver on key chain featuring a flathead and Philips head.
Japanese cotton.
Atlantis Sub Ohm coil.
User manual.