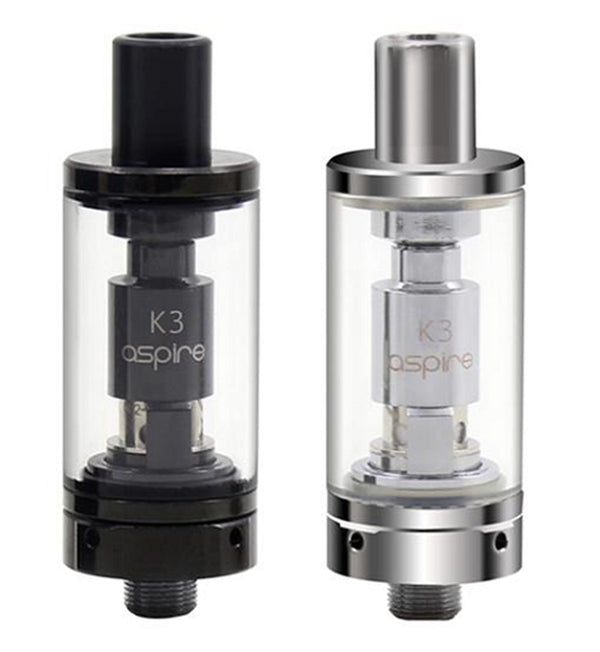 K3 Tank from Aspire. 2ml e-liquid capacity. Works with Nautilus BVC coils - bottom vertical coils. Better flavour and bigger vapour guaranteed. 510 threading. Available in two colours: black or stainless steel.
Aspire K3 Tank features:
Design: The Aspire K3 tank has a sleek and straightforward design, making it easy to use and visually appealing. It is a clearomizer, featuring a transparent tank that allows you to see the e-liquid level inside.

Capacity: Typically, the K3 tank has a liquid capacity of around 2 milliliters, providing a moderate amount of e-liquid for most vapers.

Coil Compatibility: The Aspire K3 uses Nautilus BVC (Bottom Vertical Coil) technology, known for delivering excellent flavour and vapor production. It comes with pre-installed coils, and replacement coils are readily available.

Airflow Control: While the K3 is not known for adjustable airflow control, it is designed to provide a tight, cigarette-like draw, making it suitable for mouth-to-lung (MTL) vaping.

Materials: The tank is typically constructed from high-quality stainless steel and Pyrex glass, ensuring durability and preserving the flavour quality of the e-liquid.

Connection: The tank usually features a 510-threaded connection, making it compatible with a wide range of e-cigarette batteries and mods.

Filling: The K3 tank typically has a simple bottom-fill design. To refill, you can unscrew the base to access the filling ports.

Drip Tip: It comes with a removable 510 drip tip, which can be replaced with a compatible mouthpiece if desired.
The Aspire K3 vape tank is known for its ease of use, reliability, and decent flavour production. It's often favoured by those looking to replicate the experience of smoking traditional cigarettes due to its MTL vaping style. The K3 is a suitable choice for both beginners and experienced vapers who prefer a more restricted airflow and a focus on flavour.