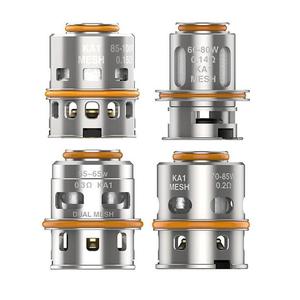 Geekvape M Series Coil is specially designed for Geekvape Z Max Tank. Available in a pack of 5, and in a choice of resistances, the M coils are mesh built and designed for sub-ohm vaping.
Description
The GeekVape M Series coils are the ideal option if you're looking to experience increased vapour production. There are four versions of this coil, all of which feature different varieties of mesh build that allows them to heat more e-liquid at a faster rate - delivering improved flavour from e-liquid. These coils can be used with the Geekvape Z Max tank.
Features:
Sub Ohm Coils
Mesh Build
Multiple Resistances
DTL Vaping
Compatible With High VG E-Liquids
Although all of them have been designed for DTL (Direct To Lung) vaping, the different builds in each mean they can be used with lower or higher power outputs. The 0.14 Ohm coil can be used between 60 - 80W, the 0.15 Ohm coils between 85 - 100W. The 0.2 Ohm coils work best between 70 - 85W, while 0.3 Ohm coils support 55 - 65W of power.
Available resistances:
0.14Ω - rated at 60 - 80W
0.2Ω - rated 70 - 85W
0.15Ω - rated 85 - 10W